Today, November 8th 2017, we are at Nutanix .Next Conference 2017 in Nice and we had the chance to attend the Opening Keynote! Are you curious to know of the most important concepts announced? We have created below an abstract of the main topics covered today…Enjoy it!
Julie O'Brien VP Corporate Marketing Nutanix started the Keynote by welcoming about 2.200 attendees at the Conference! He reminded that Nutanix is not only in the Gartner's Magic Quadrant, but is growing and hits 90+ Net Promoter score in its 7.000 customers in 125 countries.
What is the secret of this great success?
1 Click, 1 Operating System … Anywhere
Dheeraj Pandey (Founder, CEO & Chairman) explained "The Way of Nutanix": why does it exist? Why does it survive? Thanks to "obvious" innovation. Everything is digitalized, everything is going to be digitalized.
Digital transformation is a competitive opportunity for 87% of companies and 2 out of 3 top 200 companies will face digital transformation in 2018 and IT Infrastructure is the 3rd obstacle in this "journey".
What could constrain Digital Transformation?
Laws of the Land (Bureaucracy, Data and Computer Sovereignty)
Laws of Physics (network speed, Data Locality, Computing Locality)
Laws of Entropy (High-velocity Hackers, Parochial Rogue States, Parochial Geopolitics)
Today it is required a "Frictionless Control", an hybrid view of Computing.
Sunil Potti, Chief Product & Development Officer, stated that Nutanix is simply an "Invisible Infrastructure, One Click, Multi Apps, Multi Cloud with Convergence of all IT Infrastructure".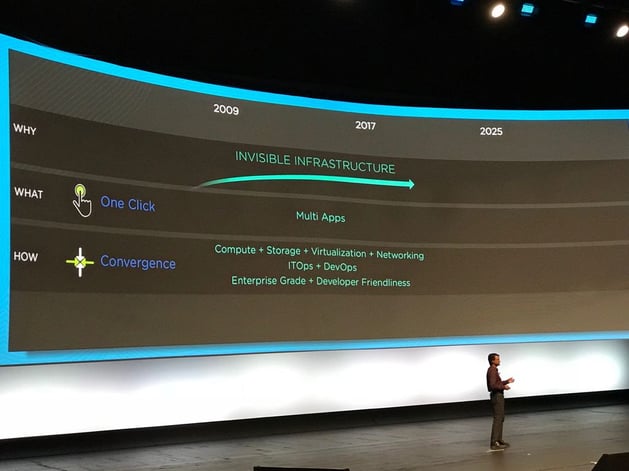 Predictable workloads (60-70%) will stay in on-premise Data Center, the rest (Elastic workloads) in the Cloud and the convergence is called "Calm Extended".
One of the best sentence we heard, that covers the Nutanix vision is: "Complex is Competent, but Simple is Genius".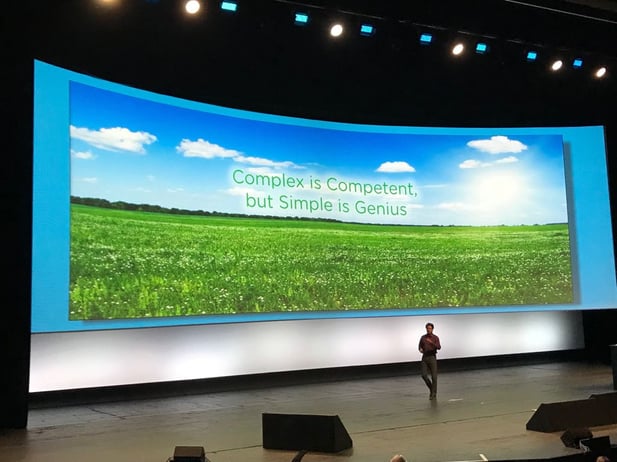 Stay tuned for the next innovative news from Kiratech!
Au revoir from Nice