This year Kiratech attended Microsoft Inspire, the worldwide Microsoft Partner conference. Below you can find an extract of the main news announced at this fantastic event.
DAY 1 KEYNOTE
Microsoft Inspire started on July 11th in Washington, D.C. with a Day 1 keynote led by Microsoft CEO Satya Nadella, and saw more than 17,000 Microsoft partners representatives attending.
The conference was focused on providing partners the best knowledge about Microsoft services and about sharing Microsoft goals and vision to keep all aligned with the most important news.
There is a special aspect that Microsoft wanted to underline during the event: the will to help its customers driving towards the Digital Transformation.
The two hours keynote of Day 1, covered multiple topics and showed how Microsoft Partners can take advantage of the approximately US$4.5 trillion digital transformation opportunities by helping customers to modernize their environments.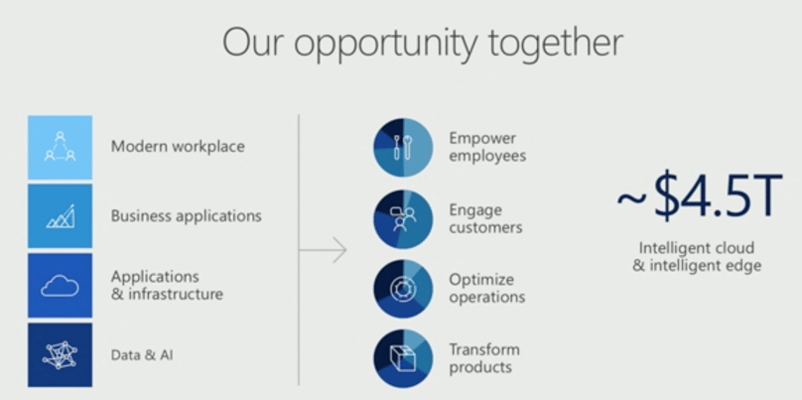 Here you can find a summary of the key announcements made:
One Commercial Partner: Putting Partners First
Microsoft's new Corporate Vice President of One Commercial Partner, Ron Huddleston, kicked off the keynote and started talking about the new Commercial Partner program, underlying the 3 key points that Microsoft follows in the relations with partners:
- Build-with: a partner- development Microsoft professional team, in collaboration with technical and specialist resources, supports partner's growth and success to increase their business.
- Sell-with: Channel Managers Have the responsibility to connect the right partner solutions to the right customer at the right time and to help during the selling process.
In order to reduce friction between Microsoft and partners, he also announced that, , Microsoft sales representatives will be compensated when they will co-sell qualified Azure-based partner solutions. The increasing investment in this "Co-Sell program" includes also the creation of a new dedicated channel-manager role that will be focused on supporting partners. In the first six months the program helped closing more than $1 billion in annual contract value for Azure partners, creating $6 billion of Azure partner pipeline opportunities and generating more than 4.500 partner deals.
Then Satya Nadella took the stage and started mentioning some numbers:
Microsoft Partners come from 1.040 countries all over the world
There are 17 Million people employed to Microsoft partners
There are 000 partners right now leading Cloud solutions.
Than he defined the Microsoft Mission: "Empower every person and every organization of the planet to achieve more".
The goals of the company are people and the organization, and the Inspire conference wants to celebrate not Microsoft technology, but the success that customers can achieve by using the technologies they created.
After that he started talking about the IT Panorama shift: from the Mobile first – Cloud First, the focus is moving to Intelligent Cloud and Intelligent Edge. Every experience built through new applications must be multi-devices and there should be an Artificial Intelligence included. There is a need for a new efficiency frontier on how we develop, distribute and manage applications.
The Digital Transformation has 4 main features that consist in:
Empower employees
Engage customers
Optimize operations
Transform products and business model
We can say that this new approach is changing the way we build our products.
Considering this, Microsoft has created 4 solutions areas:
Modern Workplace
Business Applications
Applications and Infrastructure
Data and AI
Modern Workplace
Introducing the modernization of the workplace, we can say that it comes from the will of leaders to empower people into the organization in order to transform and improve the company culture. With the Digital Transformation we have the following changes:
From routine tasks - To Creative & Critical thinking
From Individual productivity - To Dynamic & Agile Teamwork
From Disparate Systems and Tools - To Coherent & Integrated solutions
From Individual Threats - To Sophisticated Organizational Breaches (in particular in security and infrastructure fields).
Considering this logic, Microsoft 365 puts together Office 365, Windows 10 and Enterprise Mobility + Security in an integrated solution for empowering employees and making people more productive and more connected.
Moreover he mentioned the two versions of Microsoft 365 Enterprise and Microsoft 365 Business; the first one for enterprise companies, and the second one for Small-medium businesses.
Then he moved the attention to the Business Applications Area considering today's changes:
From Monolithic Suite - To Modular, modern Business Applications
From Disconnected Data Silos - To Connected Data Graphs and Artificial Intelligence
From Custom Logic & Extensibility - To a Common Data Model & Composite Applications.
Business Applications
Nadella went then into Business Process Automation topic introducing the new Microsoft "Relationship Sales Solution", that combines Microsoft 365, Dynamics 365, and LinkedIn Sales Navigator. The solution is designed to enable salespeople to have an holistic view of their business, in order to engage their customers more effectively, and to network more efficiently; it is available now also for small-medium business.
Microsoft cares also about the modernization of Human Resources and Talent Acquisition, in fact they are launching Dynamics 365 for Talent, a solution that creates a connected and consistent experience across the employee lifecycle.
Applications & Infrastructure and Data and Artificial Intelligence
In the last years, there has been big changes in the infrastructure world, in particular we assisted to the following transitions:
From Virtualization - To Containers and Microservices
From Disparate Databases - To Connected Data Estate
From Big Data & Machine Learning - To Cognitive Services and AI
And these transformations are defining the next era.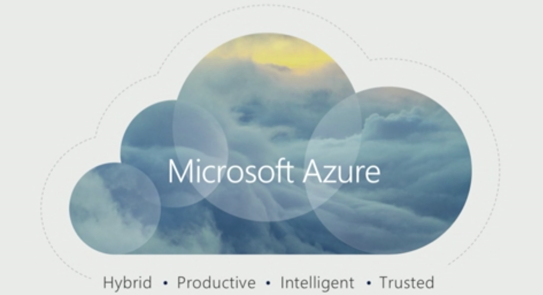 Microsoft Azure has been built looking at the future and considering these passages, in particular it is:
Hybrid
Productive
Intelligent
Trusted
to give developers the best experience in their DevOps projects. Azure is evolving the richness of projects and applications that customers and partners are building.
Then Julia White, Corporate Vice-President for Azure, went on the stage and made some examples of modernization of a line of Business and of how to create a new Artificial Intelligence (AI) based on customer experience, all using Azure: he touched in particular the insurance, airline industry, agriculture, retail and medical education markets. The aim is to improve the business and let it become:
thanks to IoT Technology.
Concluding the Day 1, Nadella stated that these 4 explained solutions Area are the fundamental ingredients for Digital Transformation outcomes that customers care about, and that they should be an incredible opportunity for everyone.
DAY 2 KEYNOTE
Microsoft's Day 2 Keynote shifted the focus from vision to implementation. There were some real-world examples of how partners created solutions built on Microsoft technologies for their customers.
The keynote was kicked off by Judson Althoff, Microsoft's Executive Vice President of their Worldwide Commercial Business, whose continued talking about how digital transformations is influencing the customers in four key points:
- Empowering Employees
- Engaging Customers
- Optimizing Operations
- Transforming Products
After going in depth with many of these pillars, Althoff invited Toni Townes-Whitley, Microsoft's Corporate Vice President for Industry, to talk about how they are heading in their work with industries. She continued with the alignments that were mentioned earlier by Althoff and she mentioned again the main industries in which Digital Transformation is a priority. She showed also some numbers about investments that some companies in these areas prospect to do for the future – so some opportunities:
Financial services
Manufacturing
Education
Health
Government
She mentioned a Deloitte and Visa study that says that the "digital natives" will drive financial services spending of $900 billion by 2025, and that the bigger part of them is for services that have never been available in the past.
Townes-Whitley showed another work of education researcher Shift Happens which found that 65 percent of today's students will have jobs that don't exist yet and said that many of those jobs will require skills that have yet to be created.
She said, "That's the future, and that's the opportunity".
Each of the six priority industries will be broken down into specific industry-focused solutions. In the health care industry, for example, Microsoft will help partners to develop programs for nine focused solutions in the health care industry, including care coordination, clinical analytics, operational analytics, mobile care worker, patient engagement, virtual health, medical data storage, remote patient monitoring, and health-focused cybersecurity.
The key performance indicator to monitor both Microsoft and its partners' opportunity to drive customers to success is the following: having specific solutions for every priority industry. "We want this to be an industry-standard experience," she said.
One of the companies she highlighted was Cubic Transportation Systems that uses Microsoft Cloud to manage information relating to transportation around the world.
Here below you can find some numbers of the amount of data they manage:
- 38 million travellers around the world each day
- 24 billion payment and information transactions annually
- transactions for 850 buses and 23 Metrorail Stations in Miami
- In London (considering buses and underground travellers): about 11 million people each day
When Althoff came back on the stage, he introduced four different partners and their customers that showed some real world solutions created through the Microsoft Cloud to face the Digital transformation for:
Employees empowerment
Customer engagement
Optimization of operations
Transformation of products.
Empowering Employees and Saving Lives in South Africa
BroadReach is a tech consultancy that improves the management and delivery of health programs in underserved regions around the world. They connect NGOs, donors, governments, and healthcare providers with the right technology and people to drive positive health and social outcomes.
BroadReach and USAID have developed the 90-90-90 Challenge, an innovative data-driven strategy to fight HIV in South Africa that aims to achieve three goals:
90 percent of citizens living with HIV to know their status
90 percent of people infected to be on antiretroviral therapy
90 percent of those on treatment to be virally suppressed
In partnership with the South African Department of Health over five years, BroadReach implemented the BroadReach Vantage platform to streamline health delivery analysis, decision-making and improve the quality of service delivery. In the five districts where this new approach is being followed, they expect to save half a million lives by the end of 2017. Looking ahead, they are planning to take the platform to Azure, Microsoft and its partners to use Office 365 to better connect clinics and staff and to use machine learning to predict which patients have a high probability of stopping treatment.
Sephora and the Marketing Automation
Sephora, a global leader in the cosmetics industry, wanted to create more intelligent, data-driven experiences for its customers. In partnership with a marketing consultant, the company has created a solution to reach customers by email, direct mail, SMS, and mobile push notifications when their favourite products are in stock, on sale, or if they are near one of Sephora's retail stores. Leveraging PowerBI and Adobe Analytics, Sephora platform allows customers to make purchasing decisions faster — all while helping retailers understand how and when is better to engage customers.
The combination of the Adobe Platform on Microsoft Azure provides an holistic, 360-degree view of a customers' purchase history. This information, when coupled with contextual data on the environment, season, and time of year during which products are bought, allows Sephora to further personalize the customer experience and build "smarter" marketing campaigns.
Loss-prevention leaders: Track'em saves time, money and headaches with cloud-based tracking system
On complex projects with thousands of components, materials and other parts are often misplaced. They may not make it onto shipping barges. They get left in warehouses. They're pilfered. A fabricator claims a piece was sent, but no one knows where it is.
A software developer, Saleem developed a software system for tracking materials and other assets across projects, from start to finish.
This work and solution led to him creating a company called Track'em, that now uses the Microsoft Cloud and other innovative techniques such as drones to scan large parts to inventory and account for various hardware and parts.
Transforming Fire Safety in Germany
Working together with HHPBerlin, a fire safety, and engineering firm, Microsoft partner ProMX developed the One System Dashboard, which uses Dynamics for radically simplified workflow management, faster project delivery, and product innovation. The system is built entirely on Azure and provides a 3D view of progress, including real-time project updates. The final result consists in a more coordinated, price-accurate, detailed and accessible project. ProMX and HHPBerlin's digital transformation journey has opened up new market opportunities in the city planning and emergency services departments.
We think that these case studies have been a very good way to show to partners the necessary creativity to meet customers' needs across different industries.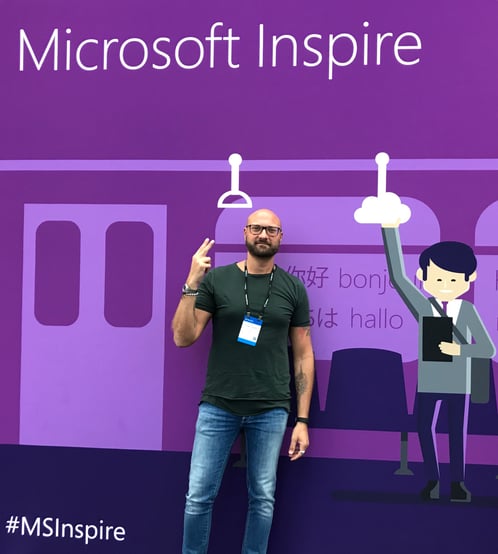 Day 3 Keynote
In this third and final Keynote, Gavriella Schuster, CVP of Worldwide Channels and Programs, and Brad Smith, President and Chief Legal Counsel, shared their vision for how Partners and Microsoft can work together in the challenge of transforming business and protecting data and meeting government privacy requirements (GDPR).
Gavriella Schuster began by describing the fundamental steps for taking great ideas and using them as the basis for a profitable business model:
Knowledge of customers and market
Growth of technical skills
Creation of repeatable, scalable solutions
Innovation
Later She focused on the major changes that Microsoft is making to the sales model to make it simpler and easier for partners to engage with the field and interact better with customers together, mentioning again the new Channel Manager role, mentioned in Day 1 keynote.
Then was the turn of Brad Smith to take the stage and he focused on the Microsoft and its partners needs to work together to keep customers, individuals and institutions, safe from increasingly aggressive and sophisticated cyberattacks. Microsoft has created a Security Practice Development Playbook to help partners to better understand and address their customers' needs. Partners also have a big opportunity to help customers complying with the requirements of the European Union's new General Data Protection Regulation (GDPR), which will take effect May 2018 to "harmonize data privacy laws across Europe, to protect and empower all EU citizens data privacy and to reshape the way organizations across the region approach data privacy.
GDPR will have implications for any companies that have customers, employees and businesses in Europe, no matter where they're based. Even if GDPR shall apply to EU member states residents, it works also if the information they possess is situated outside these states. The GDPR "means that there are going to be enhanced privacy rights for people, and that's a good thing," he added. "It means that we and the entire industry are going to have a greater duty to protect data. And by the way, for our customers and ourselves, there will be greater penalties if we fall short."
Microsoft has shared some of the steps it has taken to ensure that its cloud services are GDPR-compliant, and reiterated those steps during his talk, saying that Microsoft employs right now more than 300 engineers in charge of creating a companywide data privacy architecture.
For partners, there is the chance to help customers understanding their own GDPR-readiness, including determining which kind of data they manage and which are the actions required to protect them. According to an IDC study, the opportunity for partners generated by helping companies achieve GDPR compliance has a potential of 3.5 billion $.