In 2012 VMware introduced the vision for the software-defined datacenter (SDDC). The SDDC is VMware's architecture for public and private clouds where compute, storage, and networking (the pillars of the datacenter) are virtualized and abstracted. On top of these, a cloud management platform unifies the infrastructure and automates activities within and between the supporting pillars.
Virtual SAN
Virtual SAN (VSAN) is a VMware software-defined storage solution fully integrated with vSphere.
VSAN is a distributed layer of software that runs natively in the hypervisor and aggregates locally attached disks of hosts to create a single storage pool shared across all hosts of the cluster.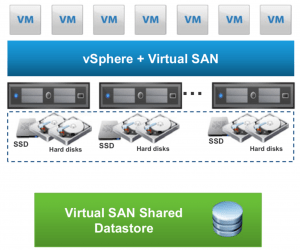 It is possible to activate VSAN at cluster creation or enable it on existing clusters. The VSAN datastore can be later extended b adding storage devices or hosts to the cluster.
Hosts in VSAN cluster do not need to be identical, and also hosts that have no local disks can participate and run their virtual machine on the VSAN datastore.
If a host contribute its local storage to the VSAN datastore, it must provide at least one hard disk (HDD) and one solid-state drive (SSD). The SSD disk is used for read caching and write buffering, while the HDD are used for persistent storage.
Virtual SAN is an object-based storage system designed to provide virtual machine-centric data operations and policy-driven management through a Storage Policy Based Management (SPBM) platform.
Virtual SAN is fully integrated with the core vSphere features such as vSphere High Availability (HA), vSphere Distributed Resource Scheduler (DRS) and vMotion. Its goal is to provide both high availability and scale-out storage functionality and can also be considered in the context of quality of service (QoS) because VM storage policies can be created on a per virtual machine basis.
Use cases
VSAN support a wide array of use cases including:
- Virtual desktops (VDI): VSAN ability to handle VDI environment peak load (boot storm etc) and scale-out model, lower costs and provide seamless scaling;
- Remote Office/Branch Office: VSAN simplified management and convergence of compute and storage lower the total cost of ownership for remote location;
- Test and Development/Tier 2/Tier 3 Application: avoids acquisition of expensive storage
- Disaster Recovery target: reduce cost for DR, minimizing data center footprint and can be used as DR target from any storage platform through vSphere Replication and Site Recovery Manager integration
- Management cluster and DMZ/isolated infrastructure: a vSphere environment backed by stand-alone VSAN is fully isolated and provides increased security and independency from the resources it is managing;
- Private cloud for Test and Development: VSAN provides a comprehensive platform to build a private cloud with rapid storage provisioning and complete automation while minimizing data center footprint.