by Giuseppe
Last week was the week of VMworld Europe 2014. Historically, VMworld Europe is usually the time when Management and End User Computing product updates are announced, but it's been slightly different this year: this year there was a wider focus.
At VMworld US, a couple of month ago, VMware has made an impressive list of announcements and a product renaming: vCloud Air is the new name for vCloud Hybrid Service and vRealize is the new name for all automation, operation and business products and suites.
(You can find a guide to new product and service names here)
The major theme was about the fact that we live in a "liquid world": the new IT must be Fluid, Instant, Secure and give Choice, and all these aspects ad founded on the Software Defined Data Center.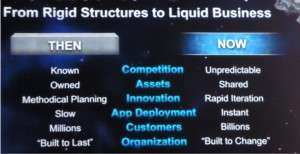 So, the main focus was on building a solid foundation for a software defined datacenter, a software defined enterprise and a hybrid cloud model integrating applications with infrastructure.
At VMworld Europe all the announcements were confirmed with some new ones:
- vCloud Suite 5.8
- vSphere 6.0 Beta
- vVol and VSAN 2.0 Beta
- a federation SDDC Solution: reference design with Pivotal and EMC
- vRealize Automation 6.2
- vRealize Operations 6.0
- vRealize Code Stream
- Horizon Flex and
- a new EVO:RAIL from HP.
After these announcements we can see the current and future VMware SDDC pillars:
- Compute: vSphere 5.5 and vSphere 6.0 Beta
- Storage: VSAN, vVol Beta and VSAN 2.0 Beta
- Network: NSX 6.1
- Management: vRealize Suites
Another interesting point was about the "Choice": VMware announced VMware Integrated Openstack (currently in Beta), a production grade openstack distribution supported by VMware fully supporting Openstack API and ready for integration with vRealize suites.